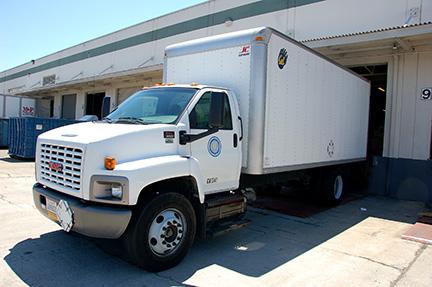 The Following Procedures Pertain Only to Campus Departments
Receipt Procedures
Central Distribution receives official UCB freight for campus departments that cannot otherwise be direct delivered to the campus by the shipper. Freight is inspected for visible damage, cartons counted, and freight bills verified for accuracy and signed with discrepancies noted. Shipments are then routed for delivery to ordering departments by preparing delivery receipts. Copies of all freight bills and delivery receipts are kept at Central Distribution for future reference.
Freight Deliveries
Central Distribution delivers small freight packages to designated delivery points at no charge.  Perishables will be given same day (as receipt) delivery priority.  If this is not possible, the ordering department will be notified of its option to pick up the item(s) from the Regatta facility (location) or having it delivered the following day.  Departments are encouraged to request desktop delivery of perishables directly from the supplier.
Oversized or heavy freight items that cannot be transported in a 20' (long) x 10' (high) x 8' (wide) box truck by one Central Distribution driver must be referred to Moving Services and the ordering department recharged for the delivery.  Moving Services' rates can be found at Moving Services or by calling 643-8232.
Restricted Article Deliveries
Radioactive materials are delivered to Environment Health and Safety (EH&S), which in turn delivers such items to the ordering department. Controlled substances are delivered by Central Distribution to authorized departmental receiving personnel.
Delivery Receipt Procedures
Upon delivery of goods to the ordering department, a departmental representative must verify the package count, inspect for visible damage, note any discrepancy or damage on the freight bill or delivery receipt, and sign the electronic device certifying that the delivery of the shipment has been made and accepted. The contents of the package need not be inspected before the receipt is signed.
Departmental Inspection:
Departments should open and inspect all shipments immediately after receipt to determine whether the order is complete and the material is in good condition.
Damage Claims
For Central Distribution delivered items, visible damage must be noted on the freight bill or delivery receipt at the time of receipt. Concealed damages must be reported to the Central Distribution Dispatcher at 642-5330 within seven calendar days of receipt. Original container and packaging material must be kept and made available for inspection by the delivery carrier.
After the inspection report is made, Central Distribution will file a freight claim with the carrier or the vendor according to the F.O.B. point. Departments should be aware that reordering of damaged goods may be necessary depending on the outcome of the freight claim. Damaged goods will be held at Central Distribution pending disposition instructions from the vendor or freight carrier. For additional information on damage claims, refer to BUS-81, Property Self-Insurance Program.
For commercial carrier deliveries: Failure to note visible damage on the freight bill or delivery receipt and ability to produce packaging materials for either visible or concealed damage claims will release the carrier from liability.
For additional questions regarding damage claims, call Central Distribution Customer Service at 642-5330.
Storage
There is limited capacity for storing incoming freight before delivery to campus.  All requests for storage pending delivery must be made to Central Distribution no less than one week prior to initial receipt at the Regatta facility and will be assessed a storage fee of $.20 per cubic foot per day starting at day 2.
For additional rental storage information, go to The Rental Storage Program.